WATERTOWN, S.D. — Cattle producers and livestock industry leaders came together in Watertown, South Dakota, for the 75th annual cattlemen's convention Nov. 28-29.
Preparing for the upcoming year was the main focus of this year's cattlemen's convention.
"The primary purpose of our annual convention is to develop the policy that our staff and leadership will follow for the next year. We are a very grassroots based organization, so the members have an opportunity to come here, form the policy during our policy committee meetings on the first day, then we will have an overnight to just kind of digest that policy they form before approving it at our annual meeting on the second night," said Eric Jennings, President of the South Dakota Cattlemen's Association.
Some topics discussed include the beef checkoff,
eminent domain with the carbon pipeline
and MRNA vaccines.
"With the changing attitude in Washington, D.C., you know there's been some attacks on the beef checkoff, so we want to make sure that our policy is firm so we can handle whatever avenue they might come from to make sure we are on that page," Jennings said.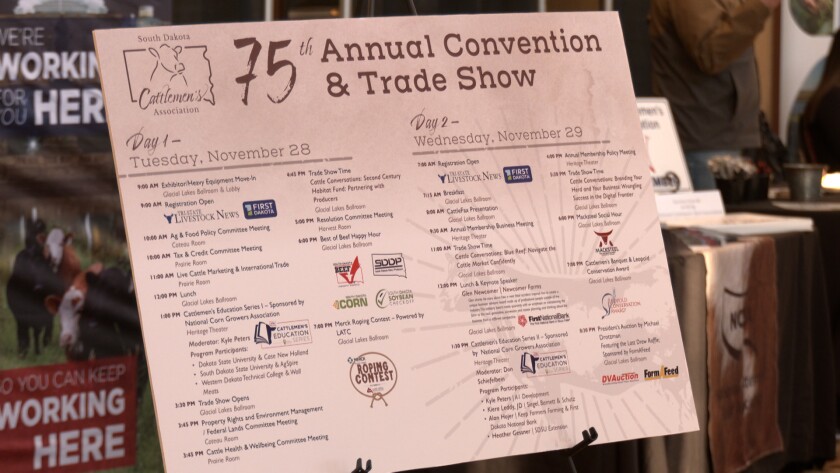 Having a state-wide meeting helps bring everyone together to discuss their issues.
"It just gives producers an opportunity to bring their ideas in and you know these are issues that they have seen in their part of the country that maybe I haven't seen in western South Dakota," said Jennings. "I'm nowhere close to the carbon pipeline, so it's not an issue for me. So I need to hear from other people that do have those issues. They often have a solution also, so when you come with an issue and a solution, it's pretty easy to put policy together — and as leadership then we have something to follow."
Bridging the gap between consumers and producers was also an issue on the minds of attendees.
"Right now, it's environmental attacks, you know, how are we projecting our message to the consumer that we are taking care of the environment, that we are sequestering carbon, that we are utilizing new technology to create a better product that is more whole and safer," Jennings said.
There was also a trade show where visitors could speak with different companies and organizations like
"Our goal is to work with public and private entities that are looking to make positive land use changes … We put that network together with agricultural producers starting with the upper Midwest, but now moving across the U.S.," said Ryan Eichler, Director of Producer Programs for AgSpire.
"It's great to walk around and hear the new products that are available for us," Jennings said.
AgSpire was able to talk with producers at the event about how their company would be able to connect them with conservation programs for their farming and ranching operations.
"Today what producers are finding for the highest incentives for are cover crop adoption that they can enter into a grazing management plan, inner or overseeding to increase the diversity of pastures that they may be grazing as well," Eicher said. "All of those things are done to meet the goals for the program as far as carbon sequestration, but then they also increase the resiliency of the farm and ranch by enhancing grazing opportunities or increasing feed production."
Between the meetings and trade shows, this conference helps provide those working in the somewhat secluded job of ranching a chance to get together and socialize all while planning for the future of the cattle industry.
"I really enjoy coming to the convention. There's people here that I see once a year at best, so it's great to come and catch up, to see how their year has been," Jennings said.
Powered by WPeMatico
Go to Source
Author: