HUTCHINSON, Minn. — A Minnesota high school was one of the big winners in a round of grants to promote meat processing education in the state.
Paige Vander Werff, agriculture teacher at Lac qui Parle Valley and the school's FFA advisor, would like to "share the wealth."
was awarded a $70,000 grant to build a mobile meat processing trailer and collaborate with
to develop a curriculum for meat processing classes.
The trailer made its public debut on Oct. 13, at Ridgewater's Hutchinson campus, where students could get a taste of meat processing, with hands-on demonstrations on stuffing sausage casings, making the links and packaging the final product.
Vander Werff has 24 students signed up for a spring semester class using the trailer, but the school plans to make it available to other Minnesota schools.
"Next year, our plan is to be able to rent it out to schools for quarters so that we can share the wealth," Vander Werff said. "I mean, this is an amazing opportunity so we want to be able to have others use it when we only use it for one class, or two classes a year.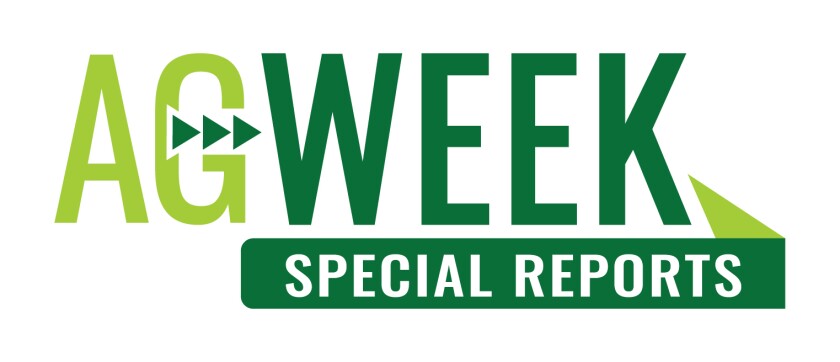 "And then different events like this, that we will take it to show people what meat processing is, what it can entail, and try to show the kids what a possibility is for after school," she continued.
The $70,000 grant was the largest of nine grants to high schools through its Meat Education and Training (MEAT) grant program. The program gave out $350,000 in one-time grants in 2023.
The grants, announced in July, also included two schools that are neighbors to each other — Ashby and West Central Area — combining on a meat processing trailer. Their combined grants were just over $70,000 and their trailer should be ready in the spring.
Vander Werff said the school realized there was no space in its existing buildings for a meat lab, so the trailer was a way around that.
"We're going to use it in our last quarter of school," Vander Werff said. "So we have a block schedule, so the kids will have 100 minutes to come in and basically use this trailer during that time of the day."
The partnership with Ridgewater means students can qualify for credits at the Willmar-based college, which is now in its second year of
offering a meat processing program.
Ridgewater is one of a few different meat-cutting programs that have started up in the upper Midwest to help fill a need for skilled labor and provide more resiliency in the meat processing industry.
Sophia Thommes is the meat cutting instructor at Ridgewater.
The school offers an 18-credit one semester course for beginning meat processing in the fall, with classes online along with time at meat processors or butcher shops. It has added another 18-credit course in the spring for an advanced certificate.
"That's when we get to do the fun stuff, right? So we get to do things like sausage making, product creation and recipe creation, as well as smoking and kind of learning all of that science and theory behind that, and how to then to do that and make a good product."
There also is carcass and meat animal evaluation.
"So that student could possibly look at an animal on the hook and say that should probably have a yield grade or quality grade of X," Thommes said.
There's also basics on ag economics and record-keeping and tracking.
The trailer also can be used at events like the one in Hutchinson. Called "Ignite," it offered high school students the chance to check out different programs offered by the college and how they might translate into a career.
A steady stream of students filtered through the trailer.
"So they're stuffing three different types of sausages, they're all brat's just three different flavors. So one station is actually stuffing, putting casings on, while the others are linking and weighing out, and then the other station is packaging," Thommes said. "Just to kind of give a little spiel on the whole process of sausage making."
The trailer has a bandsaw to cut any bone-in meats, a vacuum sealer, and is equipped to cook and smoke meats. And, of course, there are sinks for cleanup.
Lac qui Parle Valley High School is near Madison, Minnesota, about an hour west of Ridgewater's main campus in Willmar.
Vander Werff said Thommes may be able to go to the high school to team teach some of the classes there.
"Hopefully we can really grow the technical skills that they will benefit from before they leave us," Vander Werff said.
2023 Meat Education and Training (MEAT) grant recipients from the Minnesota Department of Agriculture
Ashby Public School, $41,296.58
Partner with West Central Area Schools and West Central Initiative to teach meat processing through the purchase of equipment for a meat processing mobile trailer.
Bertha-Hewitt Schools, $50,000
Renovate an existing space to accommodate a walk-in cooler as well as upgraded sinks to allow for proper cleaning of equipment and ensure proper food and student safety.
Byron High School $27,175.47
Build upon current programming by developing and adding a meat processing course with local processing partners.
Lac qui Parle Valley High School, $70,000
Build a mobile meat processing trailer and collaborate with Ridgewater College to develop a curriculum for meat processing classes.
Morris Area High School, $5,037.80
Expand the current Ag Processing course to further provide hands-on experiences and in-depth learning about meat cutting and processing, and provide a culinary experience through Family Consumer Sciences classes by preparing the meat in different ways.
Nicollet Public School, $60,000
Utilize the National Food Science Safety and Processing Curriculum (CASE) to impact student career readiness in meat science and processing.
ROCORI Public Schools, $39,527.16
Develop two classes: one focused on meat science and food safety and the second about further processing, safety, and cultural differences.
Sibley East Public Schools, $21,962.99
Update an old Family and Consumer Sciences lab to become a meat cutting lab and develop a pathway in which students will build upon skills every year in grades 8-12, culminating in a work-based capstone.
West Central Area Schools, $35,000
Further support the purchase of a meat processing mobile trailer and provide up to 100 hours of hands-on training for one agriculture instructor at a local butcher shop.
Powered by WPeMatico
Go to Source
Author: