BADGER, Minn. — Three years after the coronavirus pandemic generated robust beef demand for Didrikson Farms, its owners are creating ways to sustain it.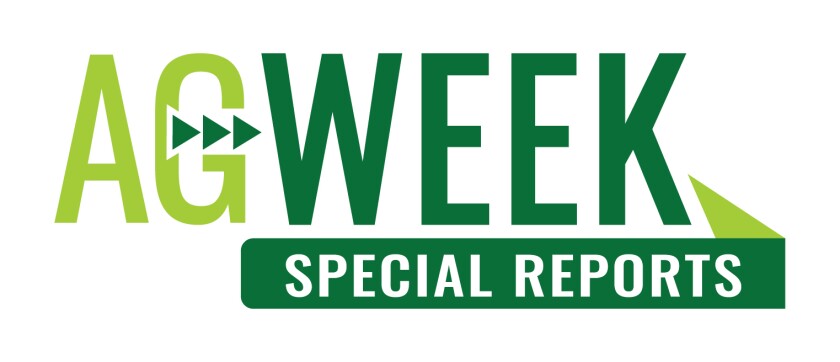 Brothers Dana and Thor Didrikson have expanded their convenience store products, developed specialty meat products to sell to schools and beefed up their website.
The Didriksons operate a 900-calf feedlot and a 200-head commercial cow-calf operation. They market part of their beef through the Didrikson Meats label.
Cattle production has been integral to the northwest Minnesota farm since the Didrikson brothers' great-grandfather, Jonas Didrikson, founded it in the early 1900s. Besides a commercial cattle herd, Didrikson Farms also raised crops, including soybeans, grass seed and corn until a few years ago.
In the fall of 2018, Thor and Dana harvested their last crops and rented out that land so they could focus on cattle production. The decision was the opposite of many farmers in northwest Minnesota who sold their cattle so they could concentrate on crop production.
"Our passion always lied with cattle and we found ourselves strung out too far and wide trying to do both," Dana said. "It was something I always enjoyed more than farming."
The two brothers earned degrees in animal production related fields. Thor graduated from North Dakota State University in Fargo in 2008 with a bachelor's degree in animal range. Dana graduated from the University of Minnesota Twin Cities in 2013 with a bachelor's degree in animal science.
Thor knew when he went to college that he would come back to Badger to farm. Dana had other career plans in mind, but after living in the Twin Cities for four years while attending U of M, he decided to also return to the farm.
The brothers started their feedlot in 2019. The Didriksons buy most of their feedlot cattle from a livestock sale barn at a variety of ages and put them together in groups and feed them for a few months before reselling them.
Most of the cattle weigh about 350 pounds when the brothers buy them, but some are as heavy as 700 pounds, if that's the size animal needed to complete a pen.
"Really what we're doing is taking on the odds and ends, if you will, high-stress cattle, high-risk cattle. That's part of the reason we're comfortable at our size because they take a lot of attention," Dana said.
Besides managing the feedlot, he and Thor also have a cow-calf herd. Over the past 10 years, they moved calving dates back from February and March to May, and finally, to mid-June.
"We moved later and later over the course of about four or five years, a few weeks at a time," Dana said. They moved the date to May in 2014, assuming the weather would be ideal. However, that next spring there was a snowstorm on May 27, which resulted in sick calves.
''That kind of pushed us back until mid-June. That was at the same time we were trying to be a low-input herd so we worked in sync with nature … mimicked when the deer fawned," Dana said.
The cows, calves and feed cattle graze on pasture during the summer. In the fall, the feeder cattle move back into the farmyard where they're fed until the next summer when they're turned back out on grass.
The Didriksons move the calves and cows from the pasture in late fall to stubble and cover crop fields where they graze until early December when they feed them and the feeder cattle a mixture of corn silage, a commercial liquid, straw and a pasta plant's products that don't meet human consumption standards. In the spring, the Didriksons bale graze the pregnant cows, placing rows of large, round hay bales in pasture sections that are divided by poly wire portable fencing.
Didrikson Farms launched Didrikson Meats in 2015 to add value to their operation. The meat sales expanded between 2015 and 2020, but remained a small part of its operation until spring 2020, when COVID hit and beef started disappearing from grocery store coolers.
Demand exploded as customers sought other sources of meat.
"It made people realize your major chains aren't going to be there in disaster situations — it's your local neighbors," Dana said.
However, after the panic buying in 2020, sales began dissipating.
"Our 2021 sales were totally different," he said. "We saw that coming through the winter, so that's when we started doing our research and development."
The research showed that there was a market for products like beef sticks and beef jerky, which could be made from trimmings.
Didrikson Farms began marketing the beef jerky and beef sticks, which are available in seven flavors, to Minnesota convenience stores. Bourbon, sweet and sassy, and dill are a few of those options.
"At the end of 2021 we were in around 20 stores, and we've continued to grow from there," Dana said. The beef sticks and jerky now are in 35 convenience stores across northwest Minnesota 
The jerky and beef sticks enable Didrikson Farms to use the beef trimmings, which make up a greater portion of the animal than the more expensive cuts, such as rib-eye steak. The jerky and sticks made up about one-third of their 2022 gross sales of $200,000.
Didrikson Farms also sell a specialty product, made up of burger, ground pork and bacon, to Badger Schools and burger and burger patties to Lake of the Woods School in Baudette, Minnesota.
Didrikson Farms hauls its cattle and hogs from the farm to a Perham, Minnesota, processing plant about 170 miles away. The brothers try to limit the number of times they make the six-hour round trips, which result in time, labor and fuel costs.
Matching the demand for their beef and pork products with the supply they should have on hand is challenging because the bulk of their sales are direct to individuals. For example, Didrikson Meats sold a total of 400 pounds of burger from January 2023 and March 2023, then in April, when grilling season started, they sold that much in a 10-day period.
"It's a big learning curve," Dana said.
Ideally, Dana would like to spend a day a week marketing their meat products to potential customers. However, his and Thor's priority is the care of the cattle herd. So, instead of making sales calls, they work to build their customer base through the farm's website.
Michelle Didrikson, Dana's wife, posts recipes, happenings on the farm and pictures of the couple's children, Benny, 6, and Ella, 3, on the website to generate traffic.
During the past winter, Didrikson Farms teamed up with Barn to Door, a website that allowed it to install an e-commerce option to its own website. Didrikson Farms also has a Facebook page where it posts photographs and videos.
Didrikson Farms also attends events, such as the Roseau County Fair to boost visibility.
The cattle business is challenging, but the rewards Dana gets from it outweighs the obstacles that are thrown his way.
For example, he gets satisfaction from feeding and nurturing calves that originated at the livestock sale barn and turning them into groups of healthy, strong, conditioned animals.
"You take pride in that and help them reach their potential," he said.
He also enjoys the cow-calf production aspect of Didrikson Farms.
"It's hard not to love having baby calves around," Dana said.
Go to Source
Author:
Powered by WPeMatico